Dr. Phil Sued for False Imprisonment and Wrongful Termination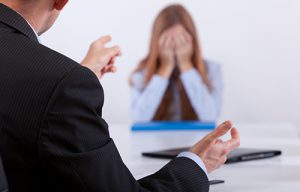 Dr. Phil ex-employee, Leah Rothman claims TV icon, Dr. Phil McGraw locked 300 employees in a room staffed by security guards as he made accusations that one of them had leaked information to the media.
Rothman's lawsuit against Dr. Phil McGraw, his production company and CBS claims she was forced to quit the show in April 2015 due to a hostile work environment. She had worked on the show since 2003.
"If you f— with me, I'll f— with you," McGraw told the staff, according to the lawsuit.
As described by NY Daily News, to make matters worse, Rothman claims McGraw already knew which employee had leaked the information — and that the harrowing meeting was nothing more than a twisted scare tactic.
Rothman, quit her job last April, claiming the emotional stress caused by McGraw's frightening confrontation became too much to bear.
She is now suing the TV icon for false imprisonment and emotional distress — as well as wrongful constructive termination and whistle blower retaliation.