San Diego Mother Discriminated, then Terminated for Kids making noise in the background during her Conference Calls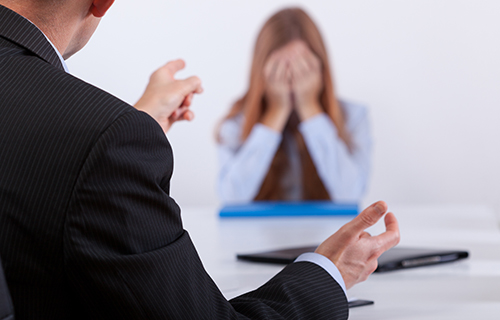 In mid-march an out-of-state insurance firm asked Drisana Rios to work from home and telecommute via conference calls as a response to COVID-19 lockdown orders. Rios attempted to resolve her workplace problem by speaking to a Human Resources representative about the conference calls held by her direct supervisor. Her male direct supervisor harassed her for the noise her kids were making in the background during conference calls.  Rios attempted to set up conference calls during her kids' nap time but her direct supervisor would purposely ignored and demeaned her and overlap schedules.
After attempting to get help from HR on the harassment she was told that the company was experiencing "reduced revenue due to COVID-19 and they were laying people off as a result." Rios believes this is retaliation because she was fired a week after calling HR. In addition, Rios has an email from the company's regional boss stating that they would avoid layoffs during the pandemic.
This unlawful termination led to Rios filing a lawsuit against her direct supervisor and the Insurance Firm.  The lawsuit includes claims of Gender discrimination, Retaliation, Gender harassment, Failure to prevent gender discrimination, Negligent supervision, Intentional infliction of emotional distress, and Wrongful termination in violation of public policy. Rios is claiming that HR had taken the side of the abusive manager and tried to cover up the retaliation. In addition Rios claims that she was indeed shamed for having children which led to her escalating this issue to Human Resources but she was terminated shortly after for her complaint.
If you feel that you have been wrongfully terminated, or you have been discriminated against because of your disability and would like to know your rights as an employee in the state of California, please contact the attorneys at the California Employment Legal Group today for a free consultation with an experienced employment lawyer.