The Wall of Shame: Sexual Harassment & Assault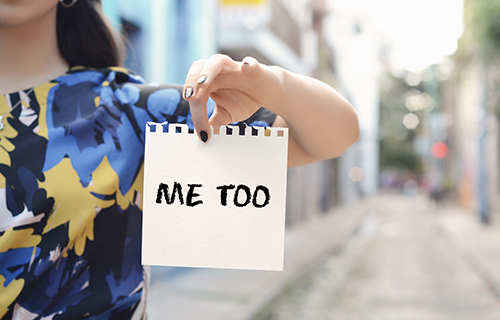 In response to the shocking allegations of sexual harassment and assault against Hollywood film producer, Harvey Weinstein, actress Alyssa Milano encouraged women to speak up if they had been sexually harassed and prompted women to use the hashtag "#MeToo" to demonstrate "the magnitude of the problem."  Soon after, millions of women flooded social media to share the harassment and abuse they had encountered.
As the #MeToo movement continues, the sexual harassment and misconduct scandals continue to grow. More women are coming forward with stories of sexual harassment and sexual abuse unveiling high-profile men in the media industry, sports and politics.
The growing list of men include NBC host Matt Lauer, Senator Jack Latvlala, NFL owner Jerry Richardson and celebrity chef John Besh.
Here is a list of the high-profile men recently accused of sexual harassment and assault in various industries.
MEDIA


Harvey Weinstein
Hollywood's most powerful movie producer, Harvey Weinstein was fired from The Weinstein Company after more than forty women, including the actresses Rose McGowan and Ashley Judd, accused the movie mogul of sexual harassment, misconduct and sexual assault. The women claim Weinstein forced them to massage him and watch him naked. In addition, he promised to help the women advance their careers in return for sexual favors.

Mario Batali
Celebrity chef Mario Batali, one of the country's most high-profile restaurateurs, stepped down from his company and TV show he co-hosted on ABC, "The Chew," after allegations of sexual misconduct. The women claim that Batali touched them inappropriately in a pattern of behavior that appeared to span at least two decades. Three of the women worked for Batali, and the fourth worked in the restaurant industry.

Danny Masterson
The star of the sitcom "That '70s Show," Danny Masterson was fired from Netflix's "The Ranch" after multiple women accused the actor of raping them years ago. One woman filed a police report in 2004 claiming she was raped in 2003, but the case didn't move forward after the Church of Scientology intervened. At least three of the women claimed they were pressured to keep quiet by the Church of Scientology.

Russell Simmons
Def Jam Recordings cofounder Russell Simmons step down from his businesses and was fired from HBO's stand-up comedy series "All Def Comedy" after several sexual misconduct allegations. The accusations from multiple women expand over several decades, from as early as 1983 and detail instances of sexual harassment, assault, and rape.

John Besh
Celebrity chef John Besh and co-owner of Besh Restaurant Group, was forced to step down from his restaurant after more than two dozen women accused him of sexual harassment. The women said his company fostered a culture of sexual abuse and an investigation by the Times-Picayune revealed "long-term unwelcome sexual relationship" with a female employee.

James Toback
Hollywood Director James Toback was accused of sexual assault by hundreds of women, who described "meetings framed as interviews or auditions quickly turned sexual" with Toback asking "humiliating personal questions." Actress Julianne Moore revealed that the Hollywood director approached her in the '80s in New York City "with the same language" where he offered a movie role in return of sexual advances.

Charlie Rose
"CBS This Morning" host and "60 Minutes" correspondent, Charlie Rose was fired after eight women accused the long-time host of sexual harassment and unwanted advances. The women accusing him were either employees at the "Charlie Rose" show or aspired to work for the show in the late 1990s to 2011. Some of the women describe Rose groping them and walking around naked in their presence.

Matt Lauer
NBC host Matt Lauer was fired from "Today" after allegations of inappropriate sexual behavior after a woman met with network executives to describe her interactions with him. The network received at least two more complaints related to Lauer and one complaint came from a former employee who said Lauer had summoned her to his office in 2001, locked the door and sexually assaulted her.

Mark Halperin
Senior political analyst and frequent contributor for NBC News and MSNBC, Mark Halperin was accused of sexual harassment by several women during his tenure at ABC News from 1997 to 2007. Eleanor McManus, a former CNN producer, shared her encounter with Halperin after the network revealed the story. The women accused Halperin of propositioning them for sex to non-consensual groping.

Charlie Hallowell
The star chef Charlie Hallowell stepped down from his three restaurants after seventeen former employees accusations of sexual harassment by former employees. The chef-owner's restaurants include Pizzaiolo, Penrose, and Boot and Shoe Service, which never had a human resources department. Hallowell admitted that his behavior was "unfiltered and often completely inappropriate" and added that he was "deeply ashamed and saddened."

Morgan Freeman
One of Hollywood's biggest stars Morgan Freeman was accused of sexual misconduct by eight women, including allegations of "unwanted touching" and harassment. A young production assistant on "Going in Style" shared with CNN that the actor would make comments about her figure and clothing on a daily basis, as well as touching her back. Because of the harassment, she said she decided to leave the movie industry.

Paul Marciano
Guess co-founder and chief creative officer Paul Marciano stepped down after a special committee of the Guess board and an outside law firm launched an investigation into allegations of sexual harassment and assault. The investigation revealed several reports of inappropriate comments and texts along with unwanted kissing and groping by Marciano. The fashion company settled the lawsuits with five of Paul Marciano's accusers for a total of $500,000.

Andy Dick
Comedian Andy Dick has been charged with misdemeanor sexual battery. According to legal documents, the comedian "did willfully and unlawfully touch an intimate part of another … against his or her will for the specific purpose of sexual arousal, sexual gratification, and sexual abuse." Additionally, Dick was fired from a film after he was accused of inappropriate behavior.

Kevin Spacey
Oscar-winning actor Kevin Spacey is being investigated for six sexual assaults in London.Spacey's downfall started when actor Anthony Rapp alleged he was 14 when Spacey, then 26, made a sexual advance to him in 1986. Spacey said he did not remember the encounter but apologized for any "inappropriate drunken behavior". The Old Vic theater found 20 people claimed they had been subjected to inappropriate behavior from the actor.

Leslie Moonves
The chairman and C.E.O. of CBS Corporation Leslie Moonves has been accused of sexual harassment by six women who had professional dealings with him. Four women described "forcible touching or kissing during business meetings" and two women told The New Yorker that he "physically intimidated them or threatened to derail their careers" after they rejected his advances and their careers suffered as a result.

Melvin Watt
Powerful regulator of mortgage giants Fannie Mae and Freddie Mac, Melvin Watt has been accused of repeatedly making inappropriate sexual advances on a female employee every time she tried to discuss career and salary concerns. The employee secretly recorded the conversations with Watt that bolster her harassment, retaliation and pay discrimination claims against Watt and the agency.
POLITICS


Al Franken
Senator Al Franken of Minnesota was forced to resign from Congress after several charges of sexual harassment and indiscretions. Several women accused the senator of groping them as he posed with them for photographs, mostly before he became a senator. In addition, radio news anchor Leeann Tweeden revealed Franken forcibly kissed and groped her on a U.S.O. tour in 2006.

Jack Latvala
Senator Jack Latvala was removed of his powerful role as chairman of the Senate Budget Chief during an investigation into allegations that he sexually harassed six women. The women accusing Latvala include Senate staff and lobbyists affiliated with both major parties, who report the incidents occurred over several years, and in the privacy of Latvala's Senate office or in public places like the Capitol rotunda, a bar or an elevator.

Roy Moore
Republican Senate candidate and former chief justice of the Alabama Supreme Court, Roy Moore may have lost the U.S. Senate election after nine women accused Moore of pursuing them sexually when they were only teenagers. Leigh Corfman, who was fourteen at the time, revealed he sexually molested her. Several other women accuse Moore of pursuing them when they were in their teens and he was in his early thirties.

Alex Kozinski
Federal court judge in California, Alex Kozinski was forced to retire after several women accused him of sexual harassment, prompting a formal inquiry. At least 15 women accused Kozinski of subjecting them to unwanted sexual comments and groping. The allegations against Kozinski span decades and include those who worked for Kozinski and also those who encountered him at events.

Eric Schneiderman
The New York State Attorney General Eric Schneiderman resigned after four women accused him of physical and psychologically abuse. Michelle Manning Barish and Tanya Selvaratnam both said they had been choked and hit repeatedly by Schneiderman. Another woman, a lawyer said she was slapped "across the face with such force that it left a mark that lingered the next day." A fourth woman stated she had similar experiences.
SPORTS


Jerry Richardson
Panthers owner Jerry Richardson announced his plans to sell the team after Sports Illustrated reported Richardson paid off at least four women to keep quiet following allegations of workplace misconduct, including sexually suggestive comments to women and on at least one occasion directed a racial slur at an African-American Panthers scout. In addition, the settlements came with non-disclosure requirements forbidding the parties from discussing the details.

Rich Rodriguez
Arizona football coach Rich Rodriguez was fired after his former assistant Melissa Wilhelmsen filed a $7.5 million notice of claim with the Arizona Attorney General's Office, alleging years of sexual harassment and a hostile work environment. Wilhelmsen claims Rodriguez frequently engaged in inappropriate and sexually threatening conduct. Further more, she insists that Rodriguez refused to intervene when players sent her inappropriate screenshots. She also states that Rodriguez, who is married, forced her to cover up his sexual affair with another women.